Who's Online
We have 26 guests online
Login Form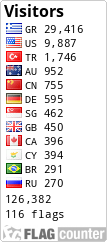 "Welcome to the webpage of the Association of Alatsatians"
Here, you can learn about the history of Alatsata city in Asia Minor and the History of our Association. You can also inquire about the news of our Association, find your family surname listed in the relevant alphabetical list with Alatsatean surnames, if your family roots came from Alatsata. Send us a short story of your own family.
You can contact us for any information by dialing the telephone numbers in section "Contacts" If you wish to be a regular member of our Association register by filing the "Application Form" online.
Register as a member in our Association
In Alatsata, in Panagia, behind the Holy Altar, I have planted a lemon tree and I go to water it.